Web Story title: Sony's SPIDER-MAN Universe Changes Have Been Announced
The Spider-Man universe is over at Sony and right now it's actually sounding like Sony does indeed have a good plan for their Spider-Man universe. Sony seemingly has some plans not just for Spider-Man but for their entire Spider-Man universe.
Sony's Spider-Man Universe (Spider-Verse)
And as I've mentioned before it does seem like Sony is building up to a really really big event possibly spider get in this will essentially be Avengers end game and Avengers Secret Wars just in the Sony Universe specifically focused on Spider-Man but many many different variants of Spider-Man.
And I really mean that I'm talking about a lot of different variants of Spider-Man some obscure ones some amazing ones some new ones I'm sure are going to be introduced on screen that might not be characters in the comics.
And the best part is, it does seem like this is an opportunity for Sony to make a lot of movies that we are really really excited about and also give opportunities that we are really excited about as well such as Toby Maguire Spider-Man and Andrew Garfield Spider-Man returning on screen yet again.
Spider-Man no way home brought the three Spider-Man together it was amazing and of course, we all loved it, however, what if that was just the start for Sony Universe?
In this Article I want to talk about Sony's plan and how I think their spider-verse is about to be insanely huge and also of course talk about what movies and what Spider-Man we can expect to see in the upcoming future of Sony Universe.
I think Sony is going even though we might have to see some Spider-Man variants actually die on screen and don't worry I don't think it's going to be Tom Holland Spider-Man or Andrew Garfield's or Toby Maguire's.
See Too
Spider-Man Successful Movies For Sony
Now at this point, we all know that the biggest Spider-Man success stories for Sony are Spider-Man homecoming, far from home and of course no way home and Spider-Man into the spider-verse and of course Venom and with the exception of the Venom franchise Spider-Man no way home and Spider-Man into the spider-verse put on screen multiple variants of Spider-Man.
Sony has realized that this works for them and fans love to see it well as it turns out it looks like they're rolling with that and they're basing their whole entire new universe off of the spider-verse
Comics Madame Webb
This is a really really great idea and they're kicking this off with Madame Webb now if you don't know much about Madame Webb for the comics basically all you need to know for Sony's purposes is that in the comics.
Madame Webb can travel through the Multiverse she is essentially a cosmic being and she has the power to travel through different universes. This is the movie that we are getting on February 16th of 2024 about a year and a half away a little less and this movie is really where we are about to see the spider-verse come into play.
Spider Versions In Spider-Verse
If you're wondering what type of spider versions going to introduce we are talking about a lot of different Spider-Man variants if you've seen into the spider-verse we're pretty much talking about that only more also recently as far as across the spider-verse is concerned which is into the spider-verse 2.
The Insider account can we get some toast recently tweeted this morning seriously across the spider-verse is going to be so effing cool we're gonna have so many different spider characters it's insane
I'm excited for spider cat and I'm really excited for spider cat as well this is just an example of what Sony is starting to do Implement new Spider-Man characters into their universes.
Now of course across the spider-verse is going to be an animated film but with the Multiverse coming into play for the Sony Spider-Man universe I believe that the Animated Universe is going to cross over into the live-action Universe.
Sony's Plan For Spider-Universe
Eventually not just yet you see Sony did originally have a plan and many people know parts of this plan it was kind of like Muddy wasn't very well put together and it quite often changed recently very much for the better.
Their original plan was to have some characters from the MCU Spider-Man universe jump over to their Universe their plan was to use Tom Holland Spider-Man as the main Spider-Man in their universe and eventually do crossovers with Venom Morbius essentially do a Sinister Six film.
A few things have changed and most of that came with the success of Spider-Man's No way home and the failure of Morbius not to mention the very confusing post-credits scene.
MCU & Sony
However, since then they have kind of shifted from doing this sort of sinister six ideas which isn't completely off the table by the way it should happen eventually but they've shifted from that mentality to a Multiverse of Spider-Man mentality a spider-verse which is a much better plan and to top it all off they are Consulting with Kevin Feige for each project they do concerning Spider-Man.
The Marvel Cinematic Universe and Kevin foggy have been a large part of the success of Tom Holland Spider-Man because he is in the MCU and because Kevin Feige Had Creative control, luckily for us.
Sony has realized that Kevin foggy is someone of a genius and he has a good direction it has been revealed that Kevin Feige does work with them on each Spider-Man projecT.
Now, so there's a lot more Synergy now between Sony and Disney slash Marvel Studios which is perfect because Sony is trying to do a spider verse and Kevin Feige created the Marvel Cinematic Universe and now Sony seemingly has a pretty good plan.
Sony's plan is kind of cool it's actually really cool based off of what we've heard from some insiders Sony is going to have a main spider-verse villain, not just a villain for one film but for the spider-verse in general.
This is a really cool concept to think about if this is true this could work really well and there are signs that this is true some set photos from Madame Webb have revealed a character that is seemingly dressed up in a Spider-Man outfit.
Big Bad Multiversal Villain Of Spider-Verse
Well according to some insiders this is actually going to be Ezekiel Sims and this very well could be our main big bad multiversal villain.
According to some insiders he is going to be going around in different universes killing off different Spider-Man kind of like the Terminator but in the Multiverse.
Now at this point in time, we're not really sure if the whole spider totem story is going to be adapted in Sony spider-verse but if they are going to go that way which they very well could because of Madame Webb that's going to be awesome.
Essentially, we'll have spider gods in the Spider-Man universe who can select avatars for which a couple of Peter Parkers have been avatars before.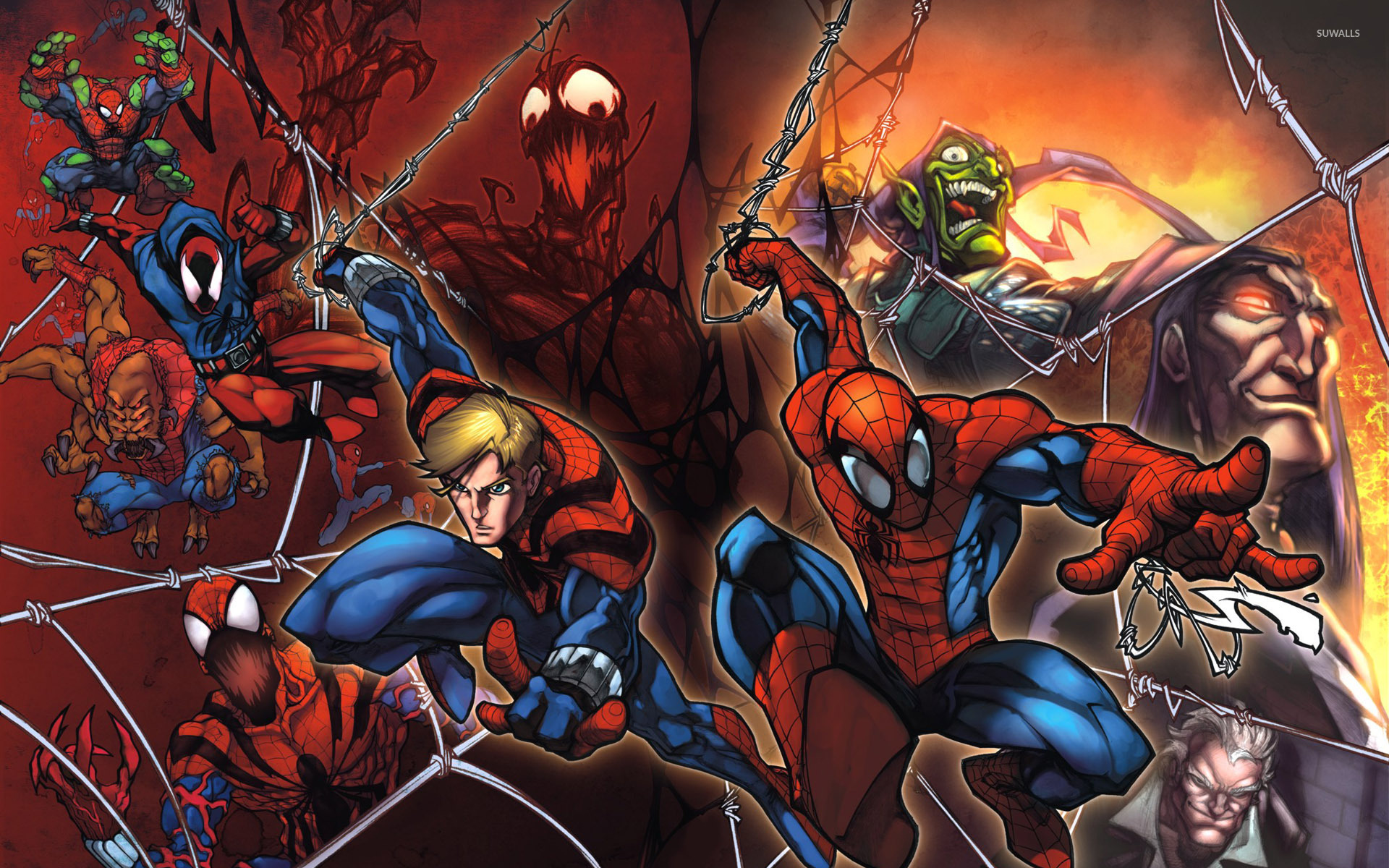 What the Insiders are saying is that Ezekiel Sims is probably the villain who is going through the Multiverse hunting down different Spider-Man or Spider-Woman because of course there are female variants of Spider-Man and that's kind of the whole point.
Sony's spider-verse is now going to bring everyone together spider Gwen Spider-Woman Miles Morales Spider-Man 2099 and hopefully lead up to spider get in which is essentially all of the different variants from the other universes coming to the main Universe to stop a threat
Now, what is that ultimate threat going to be we're not sure right now that could be Ezekiel Sims but I'm thinking they probably have a bigger villain in mind because there's always a bigger fish or they could have multiple villains which is why they need so many different variants of Spider-Man to all come together in one Universe.
Sony Multiverse In Spiderman
if this is truly the way that the Sony spider versus going this is huge it's epic this could be incredible and could completely turn around the spider-verse for Sony because within this universe you could still do The Amazing Spider-Man 3, you could do another movie with Toby Maguire you could do spider Gwen you could do spider Punk who we know is coming in across the spider-verse.
The great thing about this is that the potential is Limitless we can get our movie with Tom Hardy's Venom going up against Andrew Garfield's Spider-Man we could get a Sinister Six film within this universe but still have a big bad and a bigger multiversal story happening.
The only thing that I sadly would not expect is Tom Holland Spider-Man to have a major role in this universe could he appear in some films sure?
But I think in order to not confuse people Marvel Studios is going to want Tom Holland Spider-Man to pretty much sit on the sidelines for Sony spider-verse and just stay in the MCU mostly, especially with Secret Wars coming up.
If this is Sony's true plan for the spider-verse they don't necessarily need Tom Holland Spider-Man would it be cool of course would it be necessary no and I truly hope that everything we've heard is true and it does seemingly look like that, especially from what we've seen from the set photos for Madame Webb.
So if this is Sony's plan I'm really really excited for the future of not just one Spider-Man but a lot of different variants of Spider-Man and this is definitely a better route for Sony to go 100%. Still, hey let me know what you think about this in the comments down below do you like this plan, or do you not?