Today we have some really really exciting news for the Marvel Cinematic Universe it looks like a Silver Surfer project is in the works for Marvel Studios and it could be coming a lot sooner than you think in fact it could be coming before the actual Fantastic Four movie.
We have some details about what type of project this is going to be for the Silver Surfer and what exactly is going to happen in the project we're talking villains we're talking about where the project takes place inside of the MCU.
GALACTUS New MCU Villan
And of course, we have to talk about what it means for the Fantastic Four what it means going forward for Secret Wars the big bad villain is Galactus going to be the villain for the Silver Surfer project and does that mean if he is Galactus is going to be a big bad of Phase 5 or phase 6.
So first things first it looks like the Silver Surfer project is actually going to be a special presentation on Disney+.
It has been reported by The Cosmic circus that Marvel Studios is planning on doing more special presentations in the MCU to introduce new characters.
It's a perfect opportunity to introduce a new character to the MCU have a really really cool story and set him up to be used in other projects.
This really just helps characters get into the MCU and the Silver Surfer is a good example we want the Silver Surfer in the MCU so he could possibly appear in the Fantastic Four so he could appear in Avengers Secret Wars.
Marvel Studios might not have enough time or have a place in the MCU timeline for a full movie about the Silver Surfer they might not have the ability to get a bunch of different characters to get a bunch of different actors to get the set made for a full movie or an entire Disney plus series however they can do a one hour special that simply puts the Silver Surfer in the MCU to where they can use him in other projects.
silver surfer galactus heralds
And that is currently being planned according to this new report but yes this project will have a villain and right now it's rumored to be Galactus.
Let's go over this report and it's coming from thecosmiccircus.com on their website the cosmic circus reports despite all of these rumors and speculation about the cosmic entities appearing in the MCU details regarding the coming of Galactus's Herald have been scarce until now.
Is Silver surfer solo movie?
Marvel Studios is indeed developing a Silver Surfer solo project. They go on to say additionally our sources confirm giant freaking robots claim earlier this month that Marvel has plans for a Silver Surfer special presentation on Disney plus.
Marvel Studios is developing a Silver Surfer project and it is going to be a special presentation on Disney plus I think that this is a really good idea as I mentioned before it's kind of a perfect way to introduce him to the MCU but Marvel Studios has another plan I can personally see what Marvel Studios is doing with these Special presentations they are opening new sides to the MCU.
This is what Marvel did with a werewolf by night they introduced a new character well they actually introduced a lot of new characters but they also introduced the supernatural side of the MCU.
They're preparing people for a new side of the MCU that's about to be here shortly we have blade coming up we have Agatha coven of chaos and there's even a report that Mephisto has finally been cast for the MCU appearing for the first time in the iron heart series.
So werewolf by Knight prepped us for the supernatural side and now it looks like the Silver Surfer is going to prep us even more for the cosmic side yes we've had the cosmic side in the MCU for a bit but now it looks like we are actually going to be dealing with the cosmic entities and that's what Silver Surfer is going to prepare people for to see in the MCU.
SILVER SURFER GALACTUS Story Line
Because this report goes on to talk about what we can expect as far as what the plot is going to be like for the Silver Surfer project on their website they say per our sources the Silver Surfer special presentation will have a similar style to werewolf By Night.
The project will feature noren radd as Galactus's Herald out in the Far Corners of the cosmos. Rad will not be on earth during his special presentation and will also not interact with any Cosmic characters already established in the MCU.
There are a few more details posted in this article about the actual release date for the Silver Surfer project but first let's talk about how it verifies that in this project the Silver Surfer will indeed be the herald of Galactus.
This is big it's extremely big I'm not sure how big of a role Galactus is going to have in this but considering that he's going to be his Herald he's going to have somewhat of a role in it which means this project is going to introduce Galactus into the MCU.
Now the report says the Silver Surfer won't interact with any Cosmic beings that are already in the MCU like eternity however Galactus has not yet been introduced however with the Fantastic Four movie coming it is interesting that they want to put the Silver Surfer and Galactus in the MCU before then.
That's right this current report states that the Silver Surfer special presentation is going to be coming out before the Fantastic Four movie this is what the report says about the release date.
SILVER SURFER Release Date
It says additionally our sources confirmed a potential release window for the upcoming Silver Surfer special for our sources we're told that this special presentation will release a few months before the Fantastic Four Premiere in February 2025.
They continue to say that this is really big although the current phases of projects are still unpredictable and could shift as time passes we're being told that the special must release before the film.
Is Silver Surfer an enemy of Galactus?
This is very interesting since it must release before the Fantastic Four film that clearly means that there are going to be some things in the Fantastic Four that happened that you aren't really going to know about unless you see that Silver Surfer presentation could the first villain of the Fantastic Four in the MCU be the Silver Surfer could it be Galactus it is quite possible.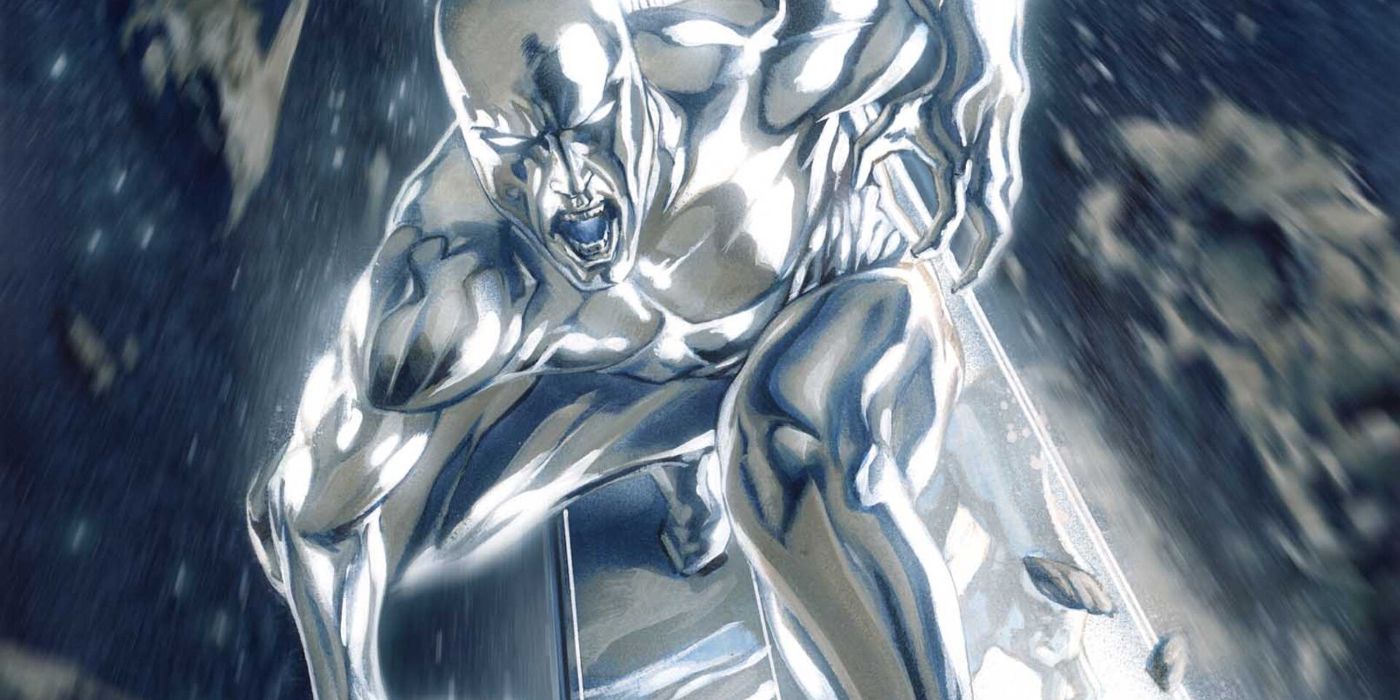 At this point, since you have to watch the presentation before watching the actual movie however if I had to guess I'm assuming Galactus isn't going to be the main villain of the Fantastic Four film I'm assuming Marvel Studios is saving Galactus as a big bad not just for one movie but over a phase or over a saga.
In fact, considering Galactus's history with a Multiverse and coming into a new universe Galactus might even be good at first he could actually warn the heroes on Earth about what happens when a Multiverse essentially gets destroyed since he existed in the previous Universe before we got our main one now.
Does Silver Surfer work for Galactus?
Now the Silver Surfer is a classic Fantastic Four character and of course, we know the Silver Surfer as a hero he starts off as a Herald of Galactus but of course, has teamed up with a Fantastic Four to defeat Galactus.
But I don't think this is the story that we're going to see this story is pretty classic and most comic book fans know the story plus not to mention they already did the story on film in the Fantastic Four the Rise of the Silver Surfer.
Even though the depiction of Galactus in that movie was not very good okay fine it was terrible but the point is this story has been done before and it's not like Kevin Feige to do something that's already been done to repeat the same story.
Take a look at Spider-Man homecoming they didn't do the original origin of Spider-Man where he gets bit by the spider why because that's been told a bunch before Kevin foggy stated that.
With the Silver Surfer solo presentation, they can get all of that origin out of the way before introducing him again in the Fantastic Four that way we don't have to actually go through the Silver Surfer origin of him being the herald of Galactus.
Herald Of Galactus
One who might have already gotten away from being the herald of Galactus because I do think that Galactus is going to be a big bad probably in Phase seven eight nine whatever the new saga is after the Multiverse Saga.
We already have Kang as a big bad I do believe that Doom is coming as well it's just too much to throw Galactus in right now they don't want to throw all their cards on the table and they want to save a really big villain for the next phase after the Multiverse Saga.
I do like the idea of these special presentations that way they can throw these characters into other projects the Silver Surfer special presentation will introduce us to the character to the people who don't really know anything about him.
Then in the Fantastic Four movie, he can appear and everybody will already know who he is, I personally think it's a good idea but hey let me know what you think about all of this in the comments down below what's your opinion?